This post may contain affiliate links. Please see my full disclosure policy for details.
You get to work, open up your MacBook, and a desktop like the one below stares back at you!         
Files are everywhere!
Where do you even begin when there are icons and files from one side of the screen to the other?!?
I've stared at a desktop like that many times and it doesn't start or end the work day with the most productive mindset.  
The good news is that you can clean up and organize your Macbook desktop in 5 simple steps that do not take a lot of time!  
Soon these steps become habits and your desktop stays cleaned up and organized all the time.  
Having a cleaned and organized desktop lets you find what you need faster and more efficiently.
(It's also a good idea because you never know when your laptop might be used for a presentation!)
An organized desktop in
5 simple steps:
The first step gives your desktop an image that you enjoy and a special message that you want to see everyday.
An organized desktop background helps set your desktop and your day with a positive outlook. 
Choose a screen saver message that helps you to achieve your goals.
You can also find plenty of positive quotes to use that are most inspiring to you.
You can also choose an image of your family or any special picture that brings a smile to your face! 
How to organize computer files and folders

:
Next, create two new folders that you will use to sort everything.  
You can always change the names of the folders later but this will simplify the process.  
For this example, I'll create a folder labeled Personal and another labeled Work. That will also help when you need to make back-ups. 
The third step is to clean up your files by name.  
Cleaning up your files by name puts them in neatly spaced rows so that you can easily sort them.  
You can also clean up by kind, date modified, date created, size or tags… pick the one that works best for your files.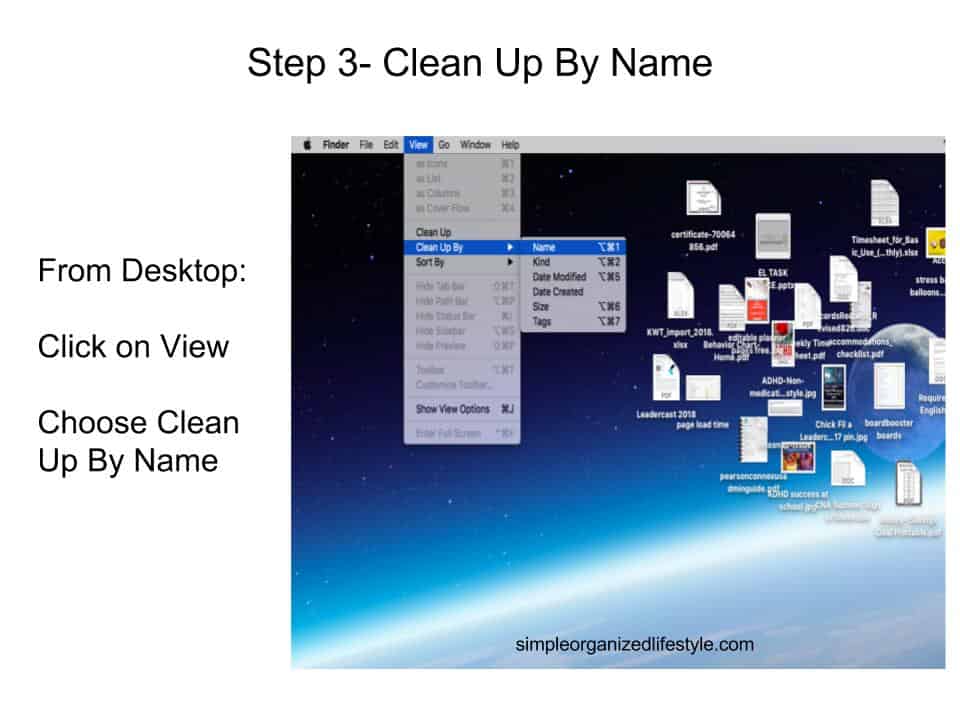 Next, move your two new folders over to a clean space on your desktop to make moving the files around easier. 
Last, drag and drop your files to either the work or personal folder. 
You can select multiple files at once and just drag them to the folder. 
Enjoy a clean and organized MacBook desktop space! 
Once you're finished with these 5 steps, you'll have files in a folder and you can see your desktop.
Simple steps to enjoy a cleaner digital workspace. 
 Have more helpful tips sent right to your inbox!