This post may contain affiliate links. Please see my full disclosure policy for details.
Board games, puzzles and cards are great for kids and family time. They are good to have when you can't get outdoors and fun for cheap entertainment. 
This past year, our son received the Exploding Kittens card game and we play that crazy game at least two or three times a week.
Any more Exploding Kittens
fanatics out there? Crazy, but fun! 
As someone who enjoys organizing, board games drive me a little nuts. 
There are some games, like Monopoly, that fit nice and neat in the box they come in.
They sit on a shelf and it's not a problem to pull them out and put them back. Thanks, Monopoly!
Then there are other games that once you put them together, they never fit back in the box.
Those games usually have big pieces that assemble, like Soggy Doggy and Flying Pigs. You know… all those games that are in every commercial around the holiday season! 
Then there are some games, like Mouse Trap, that I'm convinced were created as a joke to test the patience of parents! Oh, the parts!
My goal for board game organization was twofold. 
Simple to take off the shelf.

Pieces stay together in one place.
Those goals make them easier to put away now and give away later. 
IKEA board game storage sets look awesome, but we bought two shelves at a yard sale and one was perfect to hold board games. It needs to be repainted, but it was only $8.00 so we can do that later.
Our storage solution for board games is pieced together but there's less than $20 in the whole system. The shelf was a steal at $8.00, gray storage containers/card holders/zipper pouches were $8.00 and the oversized bags were $4.00.
I made a few labels on the computer and repurposed a few clear totes to hold some of them games.
I'll go through the set up below and hopefully it will give you some ideas for how to store puzzles and games too. 
Board game storage bags
The solution I found for games that were not going back in the original box was oversized storage bags. 
I came across these bags
in my research and never knew they existed! Cheap- less than $5 for a dozen- and effective, win-win!
Here's what it looks like with ALL of the Mouse Trap pieces as well as the board game sealed in it! The picture doesn't do it justice with the size of the bag. I can't think of many games that would not fit in these bags.
These are being used for the games that have awkward sized pieces or the box was torn- Mouse Trap, Yeti in My Spaghetti and Kerplunk. This is a good solution for boxes that rip apart and pieces constantly fall out.
Playing card storage
If cards were playing card size, I used these small plastic card containers. They are easy to see what's inside and stackable. You can see them in the picture below beside the clear tote. 
For bigger cards, I used pencil case pouches. I had a couple at home and found a couple more at Goodwill. 
I saw the zipper pouches below used for card storage on Just a Girl and Her Blog's tween game room organization article and thought it was a great idea! She uses IKEA Kuggis boxes to store the cards in zipper pouches. 
Board games in rectangle boxes, as well as puzzles, fit great on the shelf and stack easily.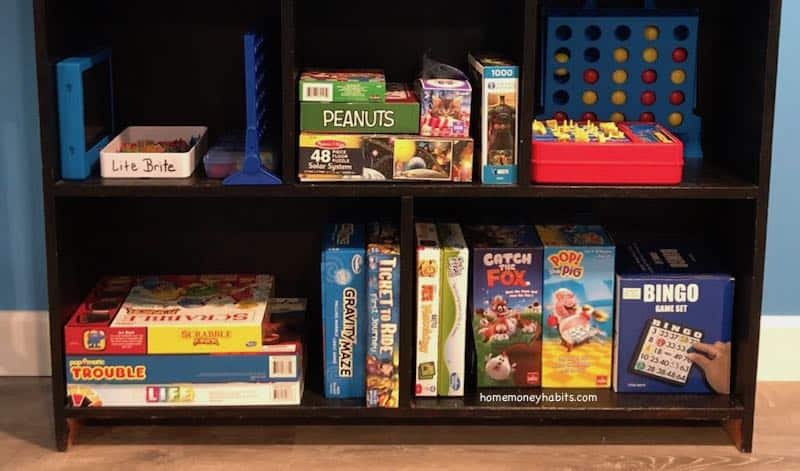 There were a few games that needed to be stored vertically. Storing games vertically is a good use of limited space but you may need something like some silicone bands so that the box and pieces stay together.
If you don't have a freestanding shelf to designate for board games, you could also use closet space.
Other ideas for limited space would be a stackable storage system or a rolling storage system like the ones below. 
A hanging closet organizer
could be repurposed for board game storage too.
I'm sure this system will change over time as interests change, but it works for now. Keeping the games together will help to pass them on to younger kiddos or donate them to after school programs. Hopefully it gave you some ideas for storage that will work for your home and space. 
Our favorite games out of these right now are Exploding Kittens, LIFE, and the Gravity Maze. 
Any board games your family enjoys and other ideas for keeping up with games, cards or puzzles?