This post may contain affiliate links. Please see my full disclosure policy for details.
After multiple binders and notebooks, I finally found a system that works well to keep up with yearly home management tasks.
I'm sharing here to help others who are also looking for something that works as a home/family life/mom management binder. 
It's also so simple that it's one of those "why did it take me so long" moments. I think I was overcomplicating this for years! 
I was trying to achieve the goal of something to give me an overview of yearly projects, but without a calendar or something to constantly update.
I wanted something that I could reuse year after year… an evergreen home management binder.
Something to quickly sort projects and keep track of home management tasks.
If you really think about it, every family has routines and patterns that are pretty consistent. 
For example, our yearly camping trip is always in June. I always make wassail for Christmas and you can count on a garage cleanup in May. I am always going to buy one family member summer sausage and cheese for a gift lol. They have become more or less routines. 
I'm sure you can think of things that have become tradition or routine for your family too. Recipes you cook, months that you typically have medical appointments, holiday traditions and so forth. 
So, why even use a binder for home management to-do's if these things become routine? 
For me… I wanted to get these tasks out of my head even if it is the same things we do year after year.
We all have good intentions when it comes to to-do's and projects. But toss in family, pets, work, life and managing a house can get messy. 
A system in place gives you room to relax and reduces stress. It's a tool to make household management a little easier. 
So here's a peek at my evergreen home management binder that I use and what I would do if I started over. 
I use this tool… a pendaflex pilesmart project sorter. This type of binder without the rings is awesome for quickly organizing multiple projects and home management tasks.
Note- Although I would highly recommend this for a home management tool, I was NOT paid to do so. I just nerd out on organizing tools and am totally okay with it:]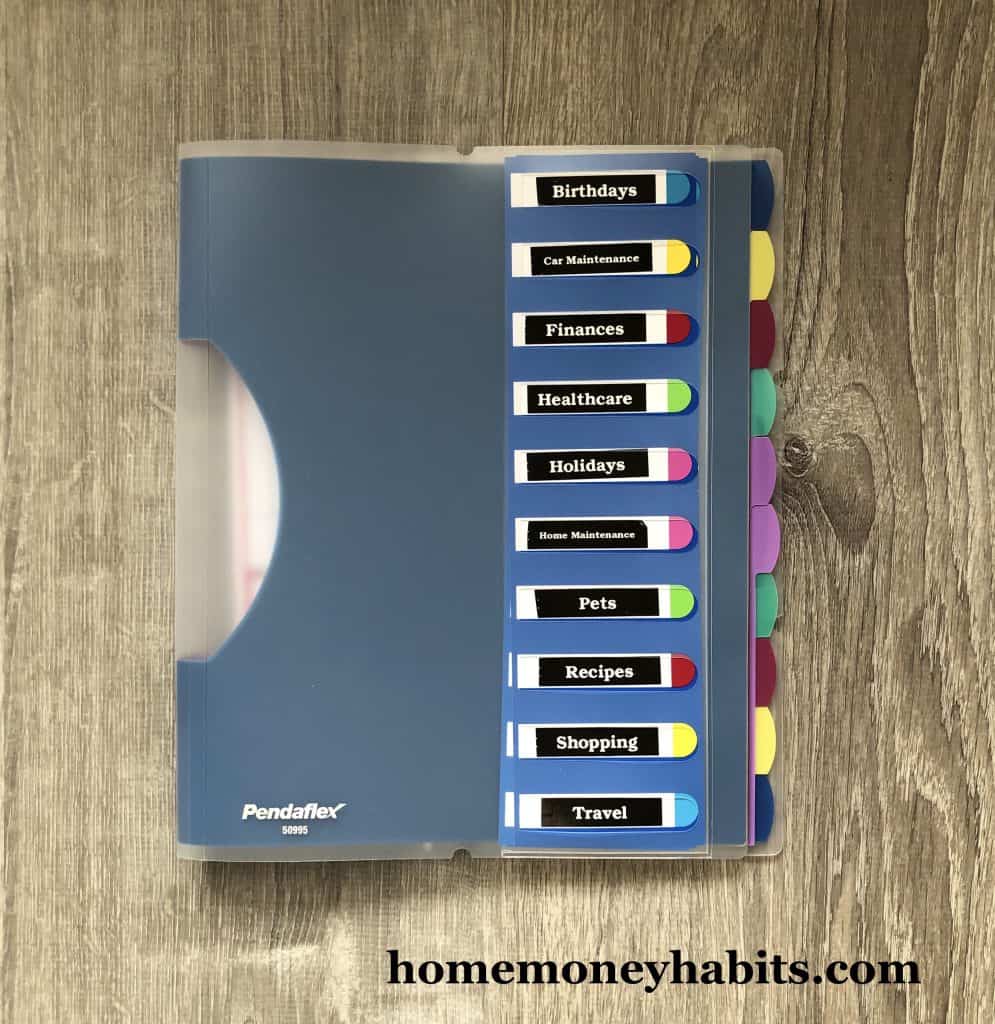 I opted out of a 3 ring binder since those require a hole puncher and the extra step of dealing with the rings. Drives me crazy when paper is half in and half out of the rings!
With this sorter, you can put in as few papers or as many as you need depending on what projects you have going on. It could easily hold 10 or more papers in each section. 
The cord across the corners keeps the papers from sliding out and makes it easy to carry around. File folders are great organizational tools, but you can't take a filing cabinet with you quickly if needed. This sorter is easy to grab and go. 
One issue with this holder is that it's not great for smaller receipts or appointment cards. We had some of these 6 in x 9 in clasp envelopes so I just dropped one of those down in the section where I had some smaller receipts. 
It also has removeable label inserts (comes with 3 inserts) next to color matching tabs so you can write on them.
Word of caution on the labels…
I messed up by first using Frixion erasable pens… these pens are usually great for labeling, but the laminate on the inserts does not work with Frixion pens. I ended up printing labels but feel sure fine point Sharpies would have worked without smudging. 
It's customizable and simple to change a category if you end up not using it or finding it helpful. When my son gets a little older, I'm going to teach him how to use one of these for school work!
Everyone's binders will look different depending on their family logistics, routines, and principles of home management. I'll share mine so you can get an idea of how it can be used. 
These are the planner tab categories I use and what I put into each section: 
Birthdays- simple typed out list of family/friends birthdays (I use this when I start over with a new planner each year)

Car Maintenance- Oil change and tire receipt tracker (I printed a maintenance schedule from our owner's manual for this) 

Finances- Budget details, password information, subscription information, list of automated bills & account information

Healthcare- Contact information for medical providers as well as a simple typed out list of the months when each of us typically have an appointment, and things like my eye prescription card

Holidays- Christmas shopping printable (this is one that I do update as I buy gifts through the year), holiday recipes

Home Maintenance- Contacts for exterminators, gravel replacement company and other services we've used in the past, a household management spring cleaning checklist so I can check off replacing smoke alarm batteries and such

Pets- Last vet appointments, vaccination records, and contacts

Recipes- Frequently used tried and true recipes and a list of our go-to favorite meals 

Shopping- Running list of things we would like to buy and/or replace when we come across a good deal 

Travel- Printed out email confirmation of our reservation dates and contact information for the campgrounds we go to most
I only use two printables for this binder- the home maintenance/spring cleaning checklist and a holiday planner for keeping up with Christmas shopping. (Those are direct links to those printables if you would like to check them out).
This binder is used differently than the way I sort and manage paper work. It's used to keep go-to papers in one binder instead of a paper filing system.  
If you found this helpful, I ask for one favor… can you please share it with your friends who also like finding organizing tools and systems that work?
If I were starting over, I would recommend these steps to building the binder:
Brain dump all of the things you constantly write in planners or remember from month to month. 

Start putting papers you constantly touch into one of the sections without labeling them (yet). 

Build the binder as you go to make it work for you and your family!
Other related FAQ's: 
Home binder apps
Some people do all of their home management with their phone and apps. I'm all for minimizing a paper trail but I just haven't completely crossed over to all digital tools for home management. 
I do use Notes and Google Calendar. I've heard many people recommend Evernote and Trello… I'm sure these are great tools and there will be other digital options in the future.
For now, I'm using what works and this system involves a minimal paper trail. 
Printables for binders
There are a ton of free home management binder printables on the Internet but the problem is that they're not always functional for your family. My advice would be to start with what you need and fill the voids as you continue to build the binder over time.  
Planner tab categories
These categories and information will be different for every family and situation. For example, we have one school-aged child but I don't keep up with school information here whereas someone else may need a section for school papers. 
Family logistics
This system would look different for empty nesters, singles or blended families but the principles of home management stay the same. 
In summary-
Building an evergreen home management binder is like putting a puzzle together so that you don't have to waste time figuring out what needs to be done or where to find things.
It gives you a plan so you don't have to spend time thinking about the same things over and over. It makes you feel less pressured and more productive. It brings a sense of peace to know important information is ready when you need it.